This summer my friend Erin and I were discussing ways to use Pinterest, in addition to gazing and drooling over cool crafts and desserts. She suggest using it as a homeschooling tool, and while it took me three months to start doing it I'm excited to announce a new feature here on The Happy Housewife.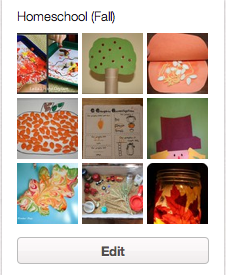 Each month I'll share with you a new unit study board. For October I've created a Fall activity board, with crafts, printables, recipes, and more. If you are looking for some fun fall projects to add to your homeschool curriculum just use the Fall board to get started!
The fun thing about Pinterest is that you can add your fall activities to this board as well. So if you have a fun Fall homeschool project you want to share, just pin it to the Fall board.
If you need an invite to Pinterest let me know and I'll do my best to get you one!