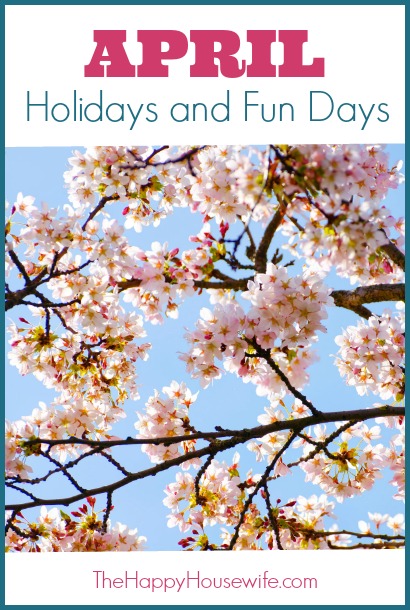 Looking to add a little fun to your schedule?  Here is a list of just a few April holidays and fun days to celebrate.
April Holidays and Fun Days
April 2 – Children's Book Day
Make a trip to the library and stock up on some books.
Spend more time reading today!
Check out our 31 Days of Read Alouds – Book ideas with activities, crafts, recipes, and printables.
April 10 – Golfer's Day
If you do not have avid golf fans in your home, try these ideas:
Play a game of mini putt putt around the living room.
Look at pictures of Scottish golf courses (much different than American manicured courses).
Discover which king outlawed golf in the sixteen hundreds.
April 13 – Scrabble Day
If you like the traditional game, Scrabble Slam cards, or another version, play Scrabble in place of language arts today.
April 15 – Tax Day, Titanic Remembered

Are you teaching your children about work and being good stewards of their money?  If you have older children, consider Economics for Everybody, a dvd curriculum taught by R.C. Sproul Jr.
Did you know the Titanic was struck before midnight on April 14th but did not sink until 2:00 am on the 15th?
Try this sink or float experiment.
April 16 – Easter
April 22 – Earth Day
April 25 – Zucchini Bread Day
April 26 – Arbor Day
National Garden Month
April is also:
Autism Awareness Month
Keep America Beautiful Month
National Poetry Month
Plan ahead to add a little fun to your April school days!