Have you ever come across this type of dresser at the thrift store? I see art deco or art deco inspired pieces all the time and even though they are usually solid wood and in great shape I can't get over the "old modern" look and I feel like I'm walking through Tomorrowland at Walt Disney World.
You can see that this dresser is in excellent condition, including the top, which has no chips or scratches to the laminate.
Catherine shows us how something as simple as a coat of paint can transform a dresser. Notice the handles have not been changed out, nor have any modifications been made to the structure of the furniture.
I love the bright turquoise and the matching painted mirror. I also think pairing the bright blue with hot pink curtains, orange vase, and a modern chevron rug really pairs the old and new together amazingly, creating a really fun space.
A new version of a similar dresser goes for $1000 on West Elm!
Here are some other fun art deco upcycle projects.
Art Deco dresser painted with chevron stripes! Notice the handles stayed the same.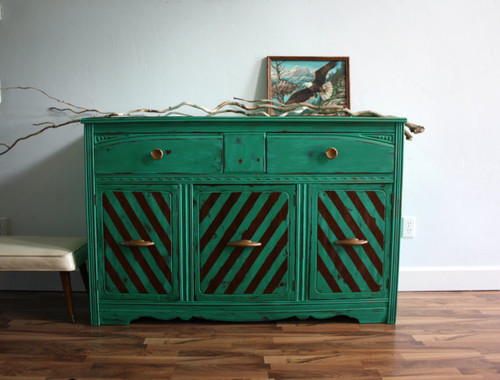 I love this emerald green color- you don't see that a lot these days on painted furniture.
This buffet is absolutely gorgeous, and would take a ton of work, staining and refinishing, but it is definitely worth it!
Last month I asked for my readers to submit their best makeover and repurposed projects. I was amazed at how many creative and awesome projects you submitted. 

Over the next few months I'll be sharing some of your amazing DIY projects! If you have a project you'd like featured you can submit it here. We're giving away a $50 Amazon gift card every month to one reader who submits their own DIY project.