I was so excited to share with you my 15 minute spring cleaning method I forgot to start at the beginning.
Before you start your spring cleaning, make a list!
Write down every area of your home you hope to tackle during your spring cleaning then check it off as you go along.
You'll feel better about yourself and your progress.
If you have a household binder here are some free spring cleaning worksheets to help you stay on track.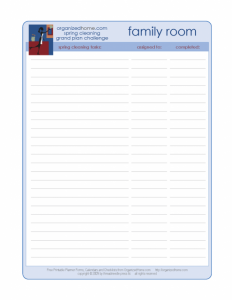 For more ideas to help you simplify and organize one day at a time, visit the Organized in 365 Archives.
Have you shared a great organizing tip on your website? I'd love to feature it on TheHappyHousewife.com. Submit your Organized in 365 tip.

Don't have a blog, but have a great tip? Submit your Organized in 365 guest post here.