Today is Closet Clean-Up at Making Your Home a Haven Monday. I think closets are a blessing and a curse. A closet, when organized, is an excellent storage area for clothes, crafts, food, toys, books, appliances, and almost anything else you need to keep in your home. A messy closet is a black hole. I find that when my closets become disorganized the downward spiral begins. When my kids put things away in a clean closet, they are more likely to put it away correctly, because everything else is in it's place. When it is a mess, they just throw stuff in the closet because there is no system.
For me the key to organizing closets and also my home has been to use small plastic bins and cubbies for everything. I use them for clothes, crafts, toys, even food. Personally, I love IKEA for storage ideas. They are inexpensive and have a huge selection. When I didn't live near an IKEA, I found the best deals at Walmart for small bins, and Target for big totes.
Today I decided to tackle one of our two craft closets. Since I have many other projects this week, I wimped out and chose the smaller of the two. In this closet we store glue, scissors, coloring books, stamping material, musical instruments, and craft items. I try to have a bin for each type of item. I do have one bin in this closet that is a bit of a craft catch-all for the things I just don't know what to do with or things that I should probably throw away.
Here is my closet before picture…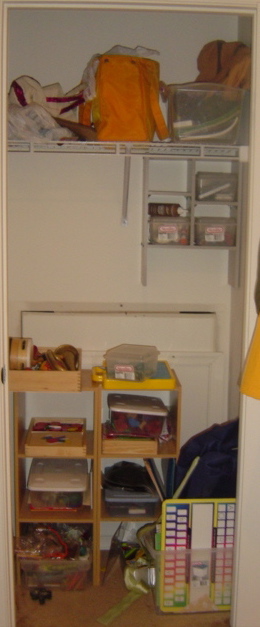 here is the after…
this is a small mounted cubby system, I think I purchased it at Target a few years back. The bins are from Walmart, I think they were $1 each.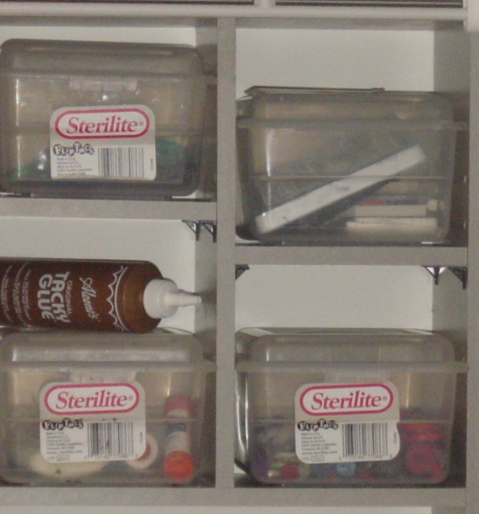 The shelf system is from Target. Most of the toys/ crafts in it came in their own container, a big plus for me!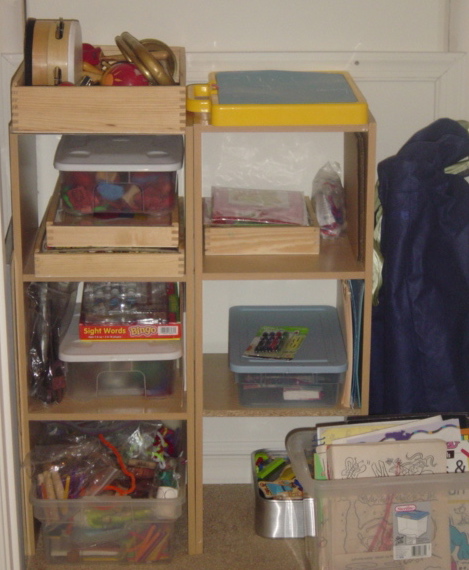 This was a very easy project, it only took about 15 minutes. My afternoon project is my homeschool area. This will probably take me most of the afternoon so check back tonight for an after picture.
Homeschool area before