I have mentioned a few times I'm a closet paper towel user, but that doesn't mean I'm not trying to change my ways. I have a drawer full of hand towels just waiting to be used, washed, used, washed, used, washed… you get the idea.
The problem is I have a drawer full of towels, so full it won't close. The kids get frustrated when putting away laundry so they put the towels in other places around the kitchen, and eventually I can't find any towels.
Then last week I remembered an idea my mom had for too full drawers.
Roll the towels.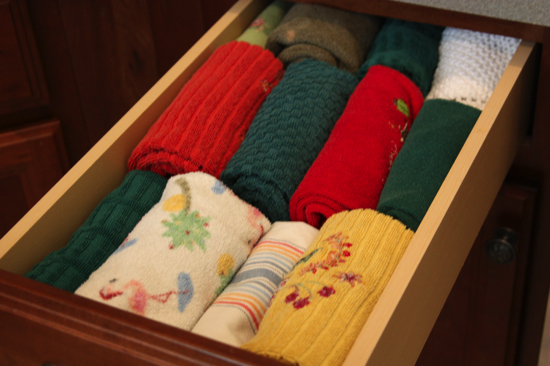 I can fit almost twice as many rolled towels in the drawer as I can folded towels. I've been using the method for a few days now and I love my organized drawer! It almost makes me want to give up paper towels… almost.