Alison from At the End of the Drive has an adorable cleaning box that she uses to organize daily, weekly, and monthly cleaning chores.  She tells you what those chores are, so it's easy to follow her example and make your own cleaning box.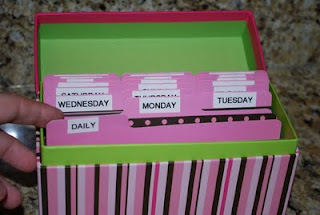 Find out how our family used this age appropriate chore chart for kids to assign chores when my children were little.
For more ideas to help you simplify and organize one day at a time, visit the Organized in 365 Archives.
Have you shared a great organizing tip on your website? I'd love to feature it on TheHappyHousewife.com. Submit your Organized in 365 tip.

Don't have a blog, but have a great tip? Submit your Organized in 365 guest post here.