Did you clean out and reorganized your laundry room last month? My laundry room actually took a lot longer than I expected because it seemed like every time I'd clean out a part of it someone would put something new in it that didn't belong!
Here is my new and improved laundry room! (You can see the disorganized laundry room photos here.)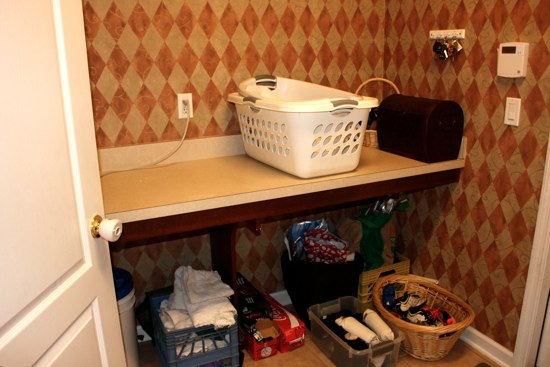 Below my counter are two bins for our soccer gear, one for shin guards and socks/ the other for cleats.
There is also a spot for reusable grocery bags, rags, soda and my wheat bins. And yes, I do see the irony of grain buckets next to cans of soda.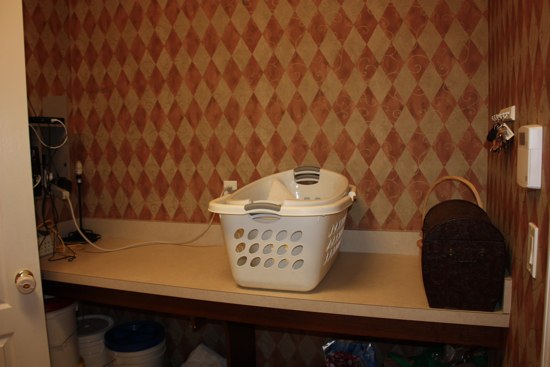 The counter is clean and ready for folding! Although it isn't very fun to fold clothes in this room when the dryer is running. Maybe it will be fun in December? 😉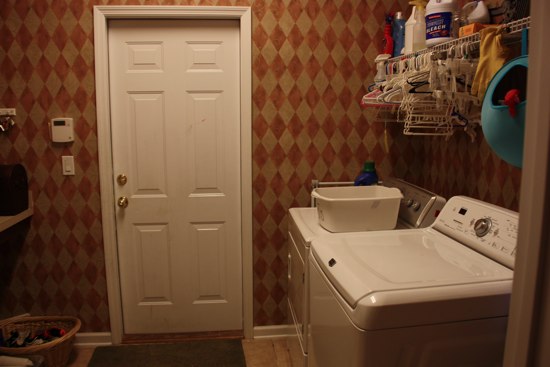 Nice clear walkway to the garage and a mat for people to wipe their feet.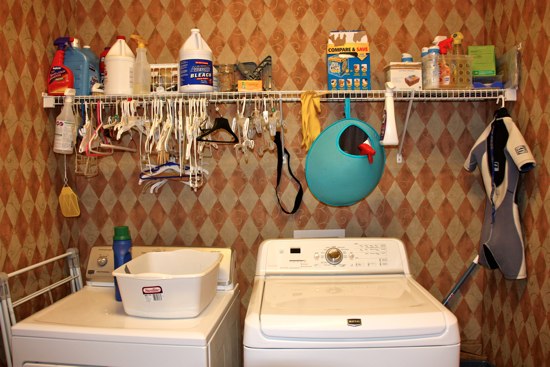 For a while my dryer was piled with junk and trinkets that were either pulled out of pockets or dropped off by people who were too lazy to take it all the way to the garage. I'm hoping to curb the laziness and I put a small jar (which is hard to see in this photo) above the dryer for me to keep the treasures I find in pockets.
Every week I empty the jar and the kids put their treasures away. Unclaimed treasures go into the garbage.
The bin on the dryer is for dirty rags. It disappeared for a few weeks this summer and the kids were putting the rags in with the rest of the laundry. Gross.
The blue bubble hanging above the washer holds stain removers and other laundry items. It isn't the best method, but it was laying on the floor of my laundry room so I put it to good use.
The space to the right of the dryer is open and allows me to hang delicate items that don't go into the dryer. It is easier than getting out the drying rack if I only have a few things.