This giveaway is now closed. Congratulations to Danna our winner! Visit the Kids Love Travel website to order your copy and for some great travel tips!
Last year I told you about the wonderful Kids Love Travel books. Featuring thirteen different states and now two Interstates, each book is filled with tips, places to visit, restaurants, and more. My Kids Love Maryland book is well worn and I love having it as a resource to plan day trips and weekend adventures.
I was thrilled when I caught up with the author Michelle last month at a curriculum fair and found out they have a new book, Kids Love I-95. Considering we have spent the majority of our Navy career on the East Coast, I have spent many hours traveling I-95 back and forth to Florida where our family lives.
This summer will be a bit different. When I load up the kids for our I-95 adventure next month I will be bringing along my Kids Love I-95 book to make the trip a lot better. Finally some places to stop other than South of the Border!
Here are a few of the book highlights.
Maps for each I-95 state that highlight exits with attractions and things to see.
Visitor Centers and Rest Areas are marked and it is noted whether it is a northbound or southbound exit.
Chick-Fil-A, McDonalds, and Chuck E. Cheese Play Lands are highlighted as well. When it is too hot or rainy to visit a rest area I love finding an indoor play land for my kids to get the wiggles out.
Chapters for each state profiling the many attractions that are located just minutes off I-95. I love that they share websites, admission prices, hours, and helpful hints and tips for making the most of your side trip.
Activities at a Glance Pages. Each activity is listed with corresponding exit numbers for quick reference. This book is so user friendly that it only takes a few minutes to plan out your entire vacation!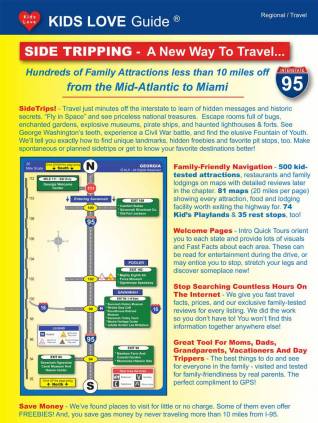 What I love most about these travel guides is that were written by people who have actually experienced and visited these places with kids!
If you aren't traveling on I-95 this summer they also have Kids Love I-75 as well as 13 state books. If the budget is tight and your vacation will be spent at home this year, these guides can help you plan a great staycation right in your own area.
Michelle has offered to giveaway one of their travel guides to one of my readers.  To enter leave a comment telling me which book you would like to win. For an additional entry you can "Like" Kids Love Travel on Facebook (which is filled with great travel tips and information). Please leave a comment for each entry. Giveaway ends May 21, 2010.