Are you looking for a way to stay on top of clutter this year? The people at Home Storage Solutions 101 have created a helpful printable declutter calendar.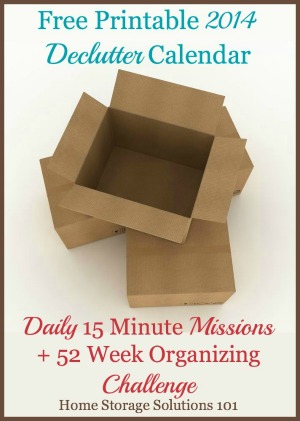 A Clutter Free 2014
The calendar has a manageable 15 minute task for everyday of the year. The tasks roughly correspond with weekly challenges that Home Storage Solutions 101 issues throughout all of 2014.
To get the calendar all you have to do is visit their site and sign up for their free newsletter. They will send the calendar and other great resources to help you have a clutter free 2014.
If you need extreme clutter help, check out Nony's book, Drowning in Clutter.