The following is a post from contributing writer Lana (like banana).
I love making items personalized.  I love it even more when I can create something or change a look of something for under a couple of dollars.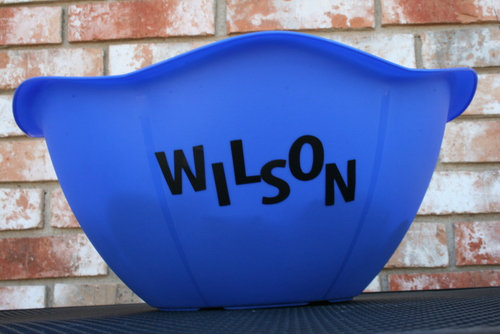 Supplies Needed
A plastic salad bowl (I found the one pictured at a local Dollar Tree.)
Vinyl Letters (Target – $2.99 for a pack of 245 pieces)
Directions
Clean the bowl to make sure any residue is gone.
Find all the letters to make your name.
Peel and stick the letters to the bowl.  (Don't worry if the letters are crooked, it gives it character.)
Take your bowl to a party filled with a yummy dessert, Crowd-Loving salad, a fantastic easy dip or just plain old chips.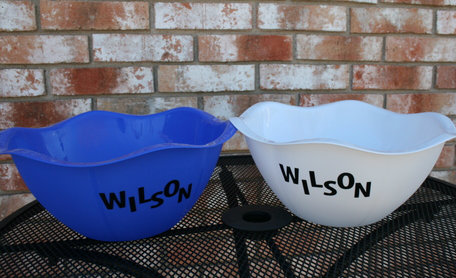 Note
The letters I used are waterproof and can be repositioned.   I personally would remove them before putting in a dishwasher or letting someone scrub them with a scouring pad.  These bowls from the Dollar Store can be stacked to make a total new look.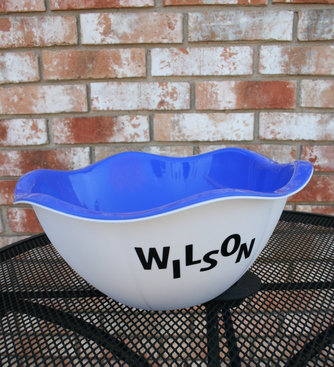 Other Ideas
Would make a wonderful hostess gift, especially already filled with dinner.
Other names would pop on the bowl as well, i.e. "Popcorn", "MY Chips", "Dessert", or  "Grab Your Own Bowl."
Make a wedding present by filling it up with salad tongs, oil and vinegar dispenser, plus a yummy recipe to serve the perfect salad.