Have you visited You Can Make This? I love this site because it is filled with downloadable patterns and instructions for making just about anything crafty. The directions are always easy to follow and the items are super cute!
With the holidays just around the corner, You Can Make This thought it would be fun to showcase some quick and easy gift ideas you can give to friends, neighbors, co-workers, and oh yes…even your family! You can enter to win eBooks from and learn some fun new techniques, tips, and ideas not only for the people on your list, but also creative ways to decorate your home!
You Can Make This has created a free download for some fun gift tags. Each of them coordinate with ideas found as part of the DIY Gift Giving Series videos that can be found on the blog , as well as designs and patterns found at SWAK Embroidery and You Can Make This.
You can also enter to win hundreds of dollars in gift certificates just for watching the videos that are part of the DIY Gift Giving Series and answering a question on the You Can Make This blog!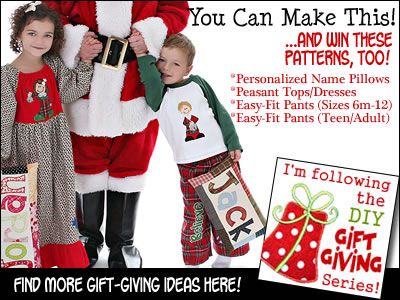 I am excited to be giving away two bundles containing directions for:
To enter to win one of the You Can Make This bundles, leave a comment. Giveaway ends December 19th.
Don't forget to check back for more great giveaways in my Day of Giveaways!