Do you struggle with magazine and/ or newspaper clutter? For many years I hated to throw away any magazine or newspaper. Thankfully I didn't subscribe to many of either, but I was just sure I would need the magazines for a homeschooling project or a decorating idea, and the newspapers for wrapping packages or Christmas ornaments.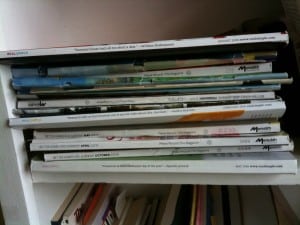 I had stacks of magazines everywhere in my home, bookshelves, bathrooms, next to the bed, under the bed, coffee tables, end tables, baskets, bins, etc. Then we moved and all the magazines were packed up in boxes. I didn't unpack the magazines and some time later we had a flood in our storage area. When I opened the boxes they were filled with soaked and ruined magazines. I threw the boxes away and was sad that many of my favorite magazines were gone forever.
The interesting thing is that while the magazines sat in storage and after I threw them away I never missed them. Not once. This was a great lesson for me, because once I realized those magazines cost me more than I gained, I decided it wasn't worth it for them to clutter up my home.
Does clutter cost you time, peace of mind, or happiness? This weekend identify something that is robbing you of your joy. Throw it out, donate it, or sell it on Craig's List. You'll be glad you did.
Organize and Decorate Everything also shares tips for Conquering Magazine Clutter.