By contributing writer Laura
When it comes to food costs, regularly dining out at restaurants can put a big dent in your wallet. However, if you're like most people, you prefer eating out and letting someone else slave away in the kitchen. If you end up eating out more often than your budget permits, this can create a huge increase in your food costs. To help you lower costs when you do eat out, here are my tips for ways to save on eating out.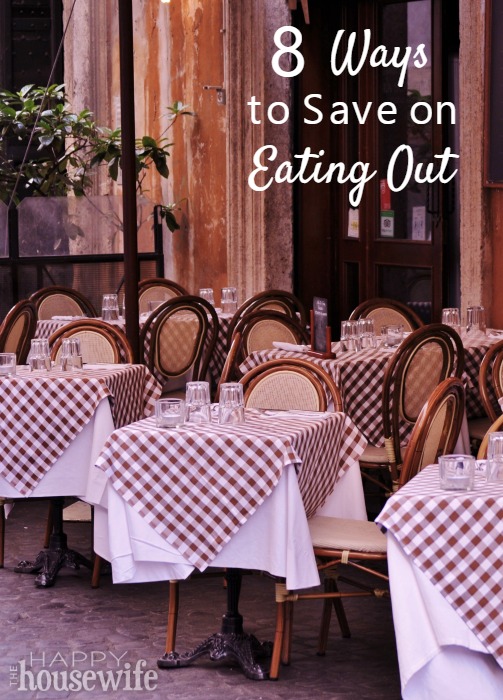 Coupons
Before going out to eat, I always check online and browse through my email inbox to look for printable coupons. I will also physically thumb through any local mailings or flyers with restaurant coupons. I tend to keep a small coupon clutch for retail and restaurant coupons, so that when I get my Valpak blue envelope in the mail, I can remove the coupons I may use and toss the rest.
Specials
When I go out to eat, I try to schedule my dining around a discount day or special promotion. Whether it's arriving for an early dinner and ordering off the happy hour appetizers menu, a mid-week offer shared that day on the restaurant's Facebook page, or even a weekly fast food offer at Chick-fil-A, I've realized that there are many discounted times of the day, week or month, that can save you a chunk of change.
Kids Eat Free
Speaking of specials, the following is one of my favorite specials of all time: kids eat free! For families with children, eating out can really add up to a large bill. Taking advantage of kids eat free night or kid free promotions can be a great savings. In my area, there are quite a few restaurants that have a weekly kids eat free night in which kids meals are free, with purchase of an adult entrée.
If you have a large family, be sure to check the limits or restrictions on free kids night promotions. Some establishments may allow up to two free kids meals per one adult entrée ordered.
E-mail Subscription
Before visiting a new restaurant, I am always sure to go to their website and sign up for their email subscription or free e-newsletter. I often receive the first notification of special offers or discount days in my email inbox. A perk of signing up to be on their e-mail list is that many restaurants offer new subscribers some sort of coupon or special offer when they first sign up.
Loyalty Cards
If I'm going to a restaurant for the first time, I want to check online to find out if they have a loyalty program or member card that can earn me discounts or special offers. It seems like every store and retail place has their own card, so I try to keep all of my restaurant and dining member cards in one place. I currently keep them in one mini wallet and purse clutch.
Gift Cards
If you love to eat out, be sure to hint to friends and family that you'd enjoy specific restaurant gift cards for holidays and special occasions. Without really asking for them, I've amassed a variety of restaurant gift cards from birthdays and Christmas. I keep these organized in a drawer in my kitchen, so I can easily review my current gift cards and then put what I need in my purse before heading out to eat.
I also have one very important tip for gift card recipients that will help you avoid losing value from your gift cards: keep your receipts, especially if you have a gift card with a large value that you use more than once over a span of time.
Online Discount Vouchers
Daily deal sites like Groupon and Living Social are constantly offering restaurant deals for more than half off. I love trying out new restaurants that I've discovered with a daily deal offer. Also, sites like Restaurant.com can be a great place to purchase a discount restaurant voucher. As with any online deals or vouchers, be sure to read the fine print to find out if there are any restrictions.
Winning with Water
One way I like to save money when eating out is sticking to plain ice water. Instead of ordering expensive beverages, your table can save a lot of dough by cutting out drinks. The markup on beverages is huge, and it's hard for me to order even a glass of juice when I know the cost I'll be paying at the restaurant is about what I would pay for a full quart of juice on sale with coupons at my grocery store. Water is so much healthier than sodas or sugary drinks, plus it is refreshing and free!
What additional strategies do you use to save money while eating out? Be sure to leave a comment and share your favorite tips with your fellow frugal friends!
You might also like…