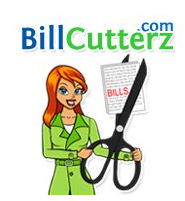 Many people I know need to reduce their monthly bills but don't always have the time to call every company and negotiate for a lower price. One company out there who works for you to reduce your monthly bills is BillCutterz.com.
Using their service is very simple. Fill out the enrollment form and someone from the company will contact you. If you want to proceed, submit all your monthly bills to BillCutterz through their secure network. BillCutterz then contacts all the companies and negotiates for a lower rate. This isn't bill consolidation, they are contacting the company on your behalf to lower your costs on things such as telephone bills, cable, internet, electricity or insurance.
If they can't save you money on your bill you don't pay anything. If they do save you money they split the savings with you. While that does seem like a lot of money, if they didn't negotiate a lower price you wouldn't be saving anything. I have to admit when I first looked into Bill Cutterz I thought it was crazy to pay someone to lower my bills. But the more I thought about it, the more I realized that I have not done much to try and lower them myself. If sending them my information would save me money and I didn't have to do anything else, that's a good deal!  The nice thing about the program is that after the first year all the savings goes to you.
In my opinion, BillCutterz would work well for people struggling to pay their monthly bills and might even lose their house because of job loss or under employment. I know many families who have both adults working full-time just to make ends meet and they do not have time to spend hours on the phone with all the different companies. A few weeks ago we had a problem with a bill and it took several hours to work it out and the savings was minimal. The only reason we pursued it was the principle of the thing, because our time wasn't worth it!
Have you used a service like BillCutterz.com? Were they able to save you money? Were you satisfied with the results?
This is a compensated post on behalf of BillCutterz. All opinions are 100% mine.