Yesterday Deven asked:
What does your extended family think about your family's number of kiddos? (Not that it matters for how you choose to have kids, but for things like visiting over holidays, getting birthday presents, etc…)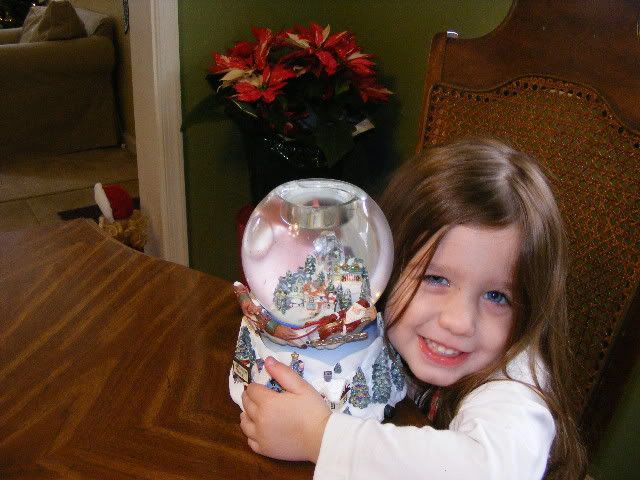 The gift thing is a big deal. I never want our family to feel like our large family is a financial strain on any of them. My mother-in-law and sister both responded to Deven's question:
Christmas is a bit, how can I say this… tough. We started out giving pretty expensive gifts after all we only had 1… we didn't know we were going to have so many grandchildren, we thought one maybe four TOTAL… so we could lavish them with wonderful gifts. Well, now we have a total of 10 and that isn't possible anymore, but I can say each grandchild seems to enjoy and appreciate whatever they receive. I have scaled back on the gifts.
I love each of the kids so much and couldn't imagine if one of them wasn't born. It's inspired me to want a large family as well. It's a little tough with gifts when they all hit at once (like Christmas). But you just have to plan ahead and find good deals. And Like Mimi said, they are thankful for anything so I don't feel we have to buy them each a $20 gift for Christmas.
I am thankful my extended family doesn't feel pressure to break the bank on gifts for my kids. I am also very thankful that my kids appreciate the gifts they are given no matter how big or small.
For the most part, my kids are content. They aren't perfect and they still have their moments of discontent, but that is the exception rather than the norm.
With Christmas quickly approaching how do we as parent's curb the "gimme's" our kids seem to catch during the holiday season? Obviously, contentment is a heart issue, so the symptoms are less important than the cause. I would encourage you to interact with your children to determine what is at the root of their discontent.
Here are some practical ways to help curb discontentment in your child.
One way we helped our children learn contentment, is to take the focus off them and on to others.
Last Christmas we started Merry Money Jars and Mom's Christmas Store. While I started the store for totally different reasons, I realized there was an awesome side benefit. For the month of December my children were totally focused on earning money to buy gifts for each other. On Christmas day, they were much more interested in watching their siblings open gifts than they were opening their own gifts. My kids also participate in Operation Christmas Child and have joyfully filled shoe boxes for other children the past few years. This program is a great way to give your child a visual example of how blessed we are in America, when they see that children in other countries are getting small toys, toothpaste, and deodorant for Christmas.
Remove unnecessary temptations from your child's life.
The mailbox seems to be overflowing with toy catalogs from October to December, recycle them before they even enter your home.  (Now, if your kids look at these and don't seem to have contentment issues keep them and use them for art projects) Limit television time. The first year we got rid of television in our home all four of our children had difficulty making a Christmas list. Because they had not been inundated with commercials telling them what they had to have, they didn't really want anything. The gifts they finally asked for were gifts they really wanted and still play with today.
Contentment starts with you.
If your children see you complaining that your house is too small, car is too old, clothes are to dated, house is too messy, or your refrigerator is avocado green, it will trickle down to your kids. Growing up my parents never had any money, and I didn't know that until I was an adult! I thought we were rich. I had clothes, shoes, friends, books and toys. I never knew my parents struggled to make ends meet most of the time. Apparently there was one Christmas when they could only afford to spend a dollar or two on a gift for me, I never knew! I thought every Christmas was wonderful. I am sure my parent's struggled with contentment, but it wasn't apparent to us as kids. I saw my parents thankful for every old car we had, every meal on the table, and the dark green carpet and velvet wallpaper in our home. I want my children to see those same qualities in me. If I am an constantly unhappy with what I have, they will be too.
What do you do when your child comes down with a bad case of the "gimme's?"