by contributing writer Dawn
The first time I took my kids on a picnic, they thought it was the greatest thing ever. They enjoyed it so much and our park system was so nice, that we soon found ourselves picnicking most every weekend. After a few weeks I realized we could leave a lot sooner if I just kept a picnic pack stocked and ready to go.
Picnics are a great way to get out of the house for warm weather fun without breaking the bank. Keeping your picnic pack stocked and ready also helps when you find yourself out at mealtimes or needing a snack when you are out and on the go!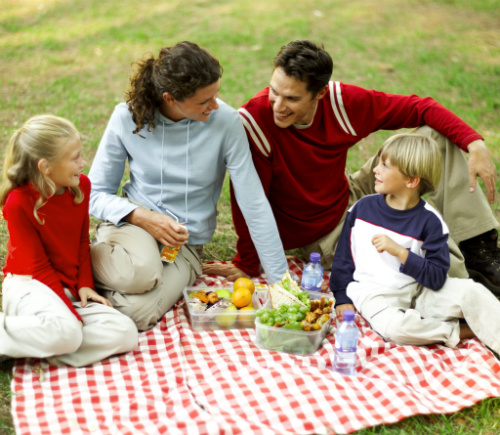 When the weather starts warming, I pull out our picnic pack. We love to have things ready to go when the mood strikes us to grab our lunch and head to a park. A lot of these things are handy for a family with children and fit nicely in a small lidded tub to keep in the trunk.
The bonus to picnics is that we don't have to worry about our toddlers being too loud in a restaurant and we know if we packed our food, that there will be something yummy for them to eat. I try to keep easy-to-pack food at all times in my pantry and refrigerator. We throw a few things in our small cooler and we are all ready to go.
Picnic Pack Supplies
Old blanket
An old blanket comes in handy for many reasons. My kids often get cold in the car and snuggle up in it. We also use it on park days if we want to sit under a tree.
Plastic tablecloth
My kids are messy eaters and a fuzzy-backed, plastic tablecloth works great for easy cleanup on picnics. When on the ground or on a picnic table, it gives us a clean surface to put our food on and makes it a little more special.
Reusable plates, cups, napkins, utensils
Though I loathe plastic, I bought a colorful plastic set for our picnic basket years ago and we still use it. It is better to me than disposables. I hate plastic-ware too and bought a cheap set of metal utensils with fat plastic handles on them. Try thrift stores for an even cheaper option!
Paper towels or rags and a couple of old towels
Kids are just messy. Though I don't use paper towels at home, I do keep them in my car. Old towels help for the days someone falls in the lake at a park or you get stuck out in the rain.
Bug spray and sunscreen
We live in the south and summers are brutal. We arm ourselves with protection and avoid the hottest parts of the day.
Floppy hats
My youngest is very fair-skinned so floppy hats are part of the wardrobe. We leave one in the car so we always have it available. A bonus to hat wearing is that my kids are easy to find on a crowded playground.
Small first aid kit and hand sanitizer
Hopefully the first aid kit won't be needed, but if it is, you want to have it.
Bottled water for cleanups
We don't like to drink bottled water on a regular basis but I do keep some handy for emergencies and cleanups. Did I mention my kids are messy eaters?
Swim bag with beach towels and swimsuits
We are close to several nice state parks with swimming facilities and have several friends who invite us to swim in their personal pools. We keep the swim bag ready for impromptu swimming trips.
Bubbles, Frisbee or other yard games
Sometimes the playground is super crowded or if we have Dad with us, he'll want to throw the Frisbee. We keep one in our picnic pack so we are always ready to play.