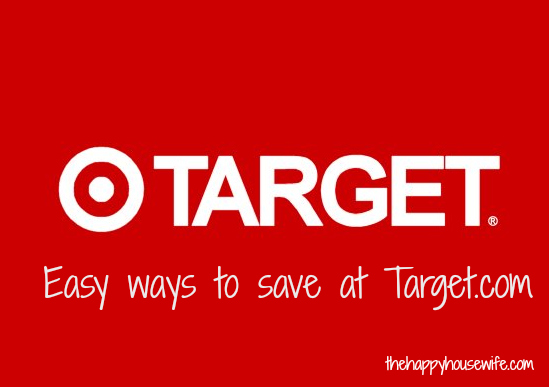 It's no secret that Target is one of my favorite places to shop. I'm not as big of a fan of shopping in store during the holiday season because it sometimes seems like it is more trouble than it's worth to try and navigate the sea of Christmas shoppers.
If you are looking for an alternative to Amazon shopping and you don't have Amazon Prime here's how you can save online at Target. 
Free shipping on orders $50 or more at Target.
Orders over $50 at Target ship free. This is available in the 48 contiguous states as well as our military families with APO/FPO addresses.
Free same-day store pickup.
I LOVE same-day store pickup. It's quickly becoming one of my favorite ways to shop. Shop online and then quickly pick up your items in the store the very same day. This is great if you have small kids and don't want to spend too much time in the toy aisle this holiday season.
Redcard holders get free shipping.
I don't recommend getting a credit card, but if you already have a Target Redcard take advantage of free shipping when you use your card. You also save 5% on your purchases, so the savings definitely starts to add up!
Free shipping and 5% off with subscriptions.
Target has a similar program to Amazon where you can set up recurring delivery of items you buy frequently. These items always ship free and you also save an additional 5% with subscriptions.
Free returns.
Did you know that you are return items purchased online for free? This is a huge benefit to shopping online at Target! You can always return for free in-store, but you can also print out a shipping label on Target.com and ship it back for free.
Cartwheel App & Target Coupons
If you shop in store don't forget to download the Cartwheel app on your smart phone. You can combine Cartwheel offers with Target coupons and manufacture coupons. This is a great way to stack the savings when you are shopping in store. You can find all Target store coupons here.
Target always has great sales and with free returns I think they are giving Amazon a run for their money this holiday season. Before you order on Amazon, check out Target.com to see if you can get a better deal!