This weekend, February 2 and 3, Bank of America and Merrill Lynch cardholders can get free access to more than 150 participating museums in 91 cities to continue their Museums on Us program.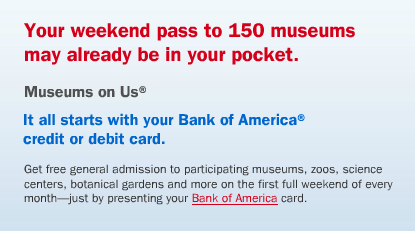 Not only can you receive one free general admission this weekend, but you can also get free admission every first full weekend of each month! You can see the full list of participating museums here.
Bank of America is offering its cardholders a way to explore the history and achievements made by African Americans during National African American History Month with Museums on Us. The program is giving bank cardholders free admission to some of America's favorite museums and cultural institutions, including the Charles H. Wright Museum of African American History in Detroit, MI, African American Museum in Philadelphia, PA, Orange County Regional History Center in Orlando, FL and Northwest African American Museum in Seattle, WA.
Photo ID and a valid Bank of America/Merrill Lynch credit or debit card must be presented at the time of visit. One free general admission limited to each cardholder at a participating institution, excluding fundraising events, special exhibitions and ticketed shows the first full weekend (Saturday and Sunday) of each month. Not to be combined with other offers.