This weekend, you can get a FREE eBook copy of The Complete Money Saver's Guide to Garage Sale Shopping!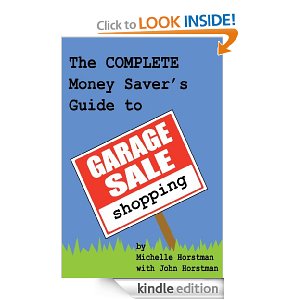 Shopping garage sales is a passion for us. Buying for ourselves, our family members and even for resale, we have learned a lot and thought it was time to share the wealth. And it's a lot of fun, too!

There are many articles and tips online for shopping garage sales, but most of them just touch on a few highlights and that's it. This book is different because we have tried to cover just about every aspect of the garage sale experience, whether it is how to prepare, how to get the best deal, what not to buy, the many uses for the treasures you'll find and much, much more.
Grab your free 44 page copy today and tomorrow only and be ready for the garage sale season!
If you don't have a Kindle, then you can still download these free eBooks to your smart phone or computer. All you need to do is download one of Amazon's free reading apps.
Remember that Amazon prices fluctuate constantly, so verify the price before purchasing.