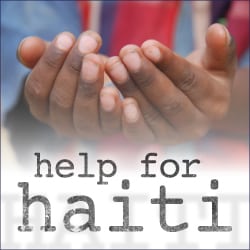 I am sure by now you have all seen the devastation caused by the earthquake in Haiti. In the past I have always felt helpless, I don't have the ability to travel or the medical training to provide care. But today, after receiving an email from one of my friends, I realized there is something I can do, and that is pray and give.
Not only can I pray and give, I can encourage and challenge my readers to do the same. I realize not everyone, especially in this economy, has money laying around to give away. But perhaps you have a few dollars? I know many of us are participating in the 730/365 challenge, maybe you could sell a few items on Ebay or Craig's List and donate that money. Maybe there is something you could give up, just for the rest of the month in order to help these people who are in desperate need of food, shelter, medical care, and clothing.
My friend Crystal from Money Saving Mom is hosting a linky for people to link up with their posts detailing how they are helping the victims of Haiti's earthquake. For each link she is donating money to Compassion International. Spurred on by her generosity I have a challenge for my readers as well.
For each person who leaves a comment telling me what they have done to help the relief effort, whether it is donating money, time, praying, etc… I will donate $1 to the Earthquake Disaster Relief Fund organized by my church. And for each person that links up with their blog post detailing their relief efforts I will donate an additional dollar, up to a maximum of $500.
If you are looking for organizations that are accepting donations check out:
Sovereign Grace Ministries
Compassion International
Numana
American Red Cross
Every dollar makes a difference.