Wow!  Check out this awesome resource for teaching American History and it's completely free!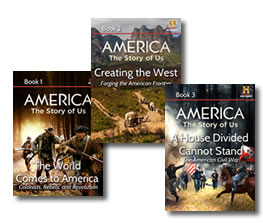 AMERICA The Story of Us is a three volume eBook series that covers 400 years of American History focusing on the people, ideas, themes, and events that have shaped our nation. Each e-book integrates text, short video clips, production stills, historical illustrations, charts, and other full-color graphics.  Everything needed for history lovers, homeschooling families, and to supplement your children's knowledge of history.
The three books available for free downloads are:
If you don't have a Kindle, then you can still download these free eBooks to your smart phone or computer. All you need to do is download one of Amazon's free reading apps.
Remember that Amazon prices fluctuate constantly, so verify the price before purchasing.