One of the things I LOVED about our house when we first looked at it was that it had two pantries. Since I buy most of our food in bulk, having a good storage space is important. In Maryland we had our basement, but you can't really keep certain foods in a hot garage, which is what we have in Florida.
The two pantries was a great selling point for our new house but after we moved in I realized that our second pantry didn't have a light. It had a light, but it was a battery powered light bulb that had kind of imploded on the inside. I set out to Home Depot to see if I could find a replacement. I didn't find what I wanted and when I returned home there was an email from the folks at Mr. Beams asking if I wanted to try out their new ceiling light. Of course I said yes!
The ceiling light is compact and runs off of batteries. It has an LED light so the batteries should last a very long time. My favorite it feature is that it is motion activated and shuts off after 30 seconds if there is no motion. This is a bonus for me because my children are always "forgetting" to turn off the lights. It is super easy to install, my 14 year old installed ours, and works great.
My pantry (which is currently holding games and kitchen odds and ends) is about 6 feet deep and 12 feet tall. The Mr. Beams Ceiling Light does a great job of lighting up the closet even though it is big.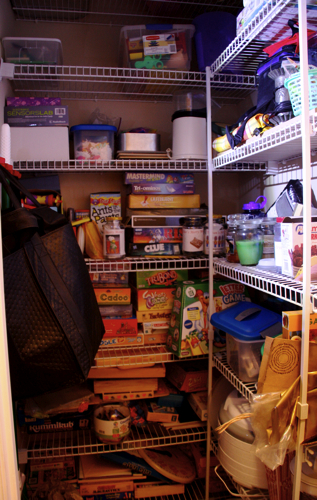 Here are the ceiling light features.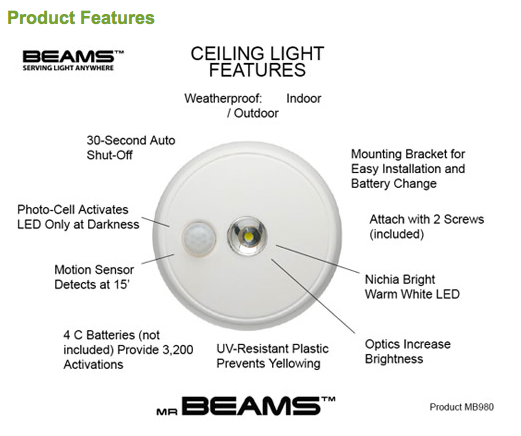 I have a Mr. Beams Ceiling Light to give away to one reader. While it won't arrive in time for Christmas it would make a great gift. To enter leave me a comment.
I also have an exclusive coupon code so you can save 20% of a Mr. Beams Ceiling Light. Use the code MRBEAMS21 to save 20% on a ceiling light. You can find Mr. Beams on Facebook and Twitter if you want to learn more about the company or find out about other products and specials.