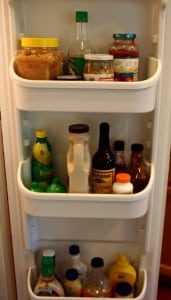 One of my biggest trouble spots is the refrigerator door. I often pull out a jar of salsa or bottle of salad dressing only to wonder if eating it is going to make us all sick. I never know how long things last before they "go bad."
My husband tends to err on the side of caution and throw everything away, where I usually give it the sniff test to determine whether it is safe to eat. If you would like a better method of determining the shelf life of food check out this awesome Shelf Life Guide from Still Tasty. It even has a search feature so you can find foods quickly. No more sniff test for me!
I was surprised to find out that opened salsa lasts a month in the fridge and molasses lasts forever.
I spent some time cleaning out my fridge and found a lot of food and condiments that needed to be thrown away. It was depressing and I felt like I was throwing money in the garbage can.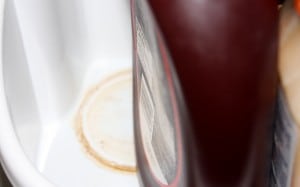 A good idea is to clean out your fridge before you go on your big shopping trip. This means most people will clean out their fridge every few weeks. Not only will you be able to toss expired food items, you will also be able to wipe down the shelves. I am sure if you have kids your shelves are probably not very clean!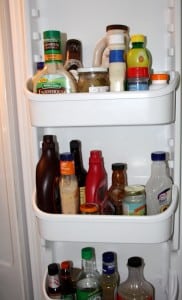 Your refrigerator manual probably has recommendations for cleaners, but I use hot soapy water and it works well. I just empty the fridge, remove the shelves and bins, then wash in the sink. The whole process takes about 45 minutes if I haven't done it in a while. Remember to wipe the bottom of the containers before you put them back into the fridge, it doesn't make sense to put dirty bottles on a clean shelf!
Keeping your fridge clean and clutter free is an easy way to save money. If you know what is in your fridge you are less likely to purchase duplicate items and are more likely to use up what you already have at home.