Confession: I use paper plates for lunch. I have been doing this for several years to help streamline our homeschool day. It also allows us to only run the dishwasher once a day instead of twice.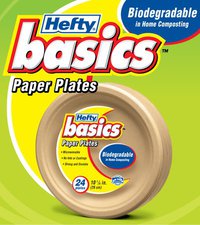 I have often felt guilty about using paper plates every day, because I know it isn't the "greenest" thing to do. But it is such a big timesaver for me, I live with the guilt. I recently received some Hefty Basics to try. I was interested in trying these plates because they are biodegradable for in-home composting and free of inks, dyes or coatings.  I was worried that the "green" features of these plates would make them wimpy, but I was completely wrong. These plates were sturdy and held up to a full plate of food, including baked beans.
Hefty® Basics™ has partnered with the Arbor Day Foundation™ on a quest to plant 10,000 trees, one for every ten new "Like"s on Facebook.
I have some coupons for Hefty® Basics™ to giveaway to one of my readers. If you are a closet paper plate user (like I was) these plates might help you sleep better at night. 😉 Or, if nothing else, you can throw them in your compost bin instead of the garbage and feel a little better about helping the environment. To win some plates please leave a comment. Giveaway ends January 11, 2011.