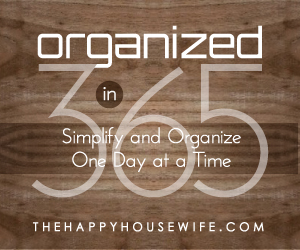 When you have kids, you learn that there are many useful things to have with you on the road.  This mom tells you what you need and has them all super organized in her post Junk in the Trunk.
For more ideas to help you simplify and organize one day at a time, visit the Organized in 365 Archives.
Have you shared a great organizing tip on your website? I'd love to feature it on TheHappyHousewife.com. Submit your Organized in 365 tip.

Don't have a blog, but have a great tip? Submit your Organized in 365 guest post here.