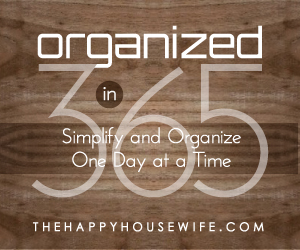 When organizing spaces in your home it is important to handle it once and make a decision. I often find myself stacking items in piles not wanting to make a decision on what to do with them right away.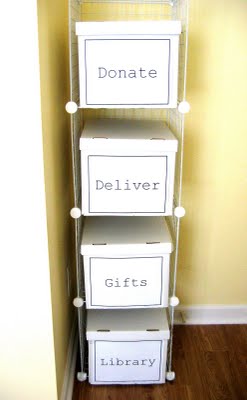 This does not work for me. I've found "I don't know" boxes during moves that haven't been opened in two or three years! Obviously I didn't really need those items because I lived for years without them! I'm not talking about keepsakes or hand-me-down clothes, just stuff!
When organizing grab a few boxes or bags and label them give, donate, sell, and toss. If you aren't going to keep an item put it in the labeled container immediately.
I usually take a bag of items to church every Sunday with my give items. My donate items go straight to the car and I drop them off at our local Goodwill next time I'm out. If it's something worth selling I'll usually list it on Craig's List that evening (or wait until the weekend) and the stuff that isn't worth selling, donating, or giving away is thrown out or recycled right away.
I find that the satisfaction of getting the items out of my house quickly motivates me to keep organizing. If I just stack and pile I often find myself discouraged and end up with a bunch of half finished organizing projects.
I love this homemade tower for handling piles. Personally I'd use plastic bins because I don't think the cardboard ones hold up as well, but you can find the tutorial for this project on The Red Chair Blog.
Have you shared a great organizing tip on your website? I'd love to feature it on TheHappyHousewife.com. Submit your Organized in 365 tip.

Don't have a blog, but have a great tip? Submit your Organized in 365 guest post here.
Photo credit: Pinterest