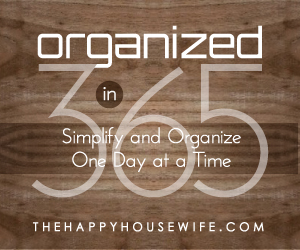 As you organize your home, you probably accumulate things you want to give away.  Freecycle is one way to do that.  Reader, Melissa, shares this:
"There is a site called freecycle.org where according to your zip code, you can give away things you no longer use that would otherwise be thrown away or sit in a box until you had a yard sale or donated it. You join, post an ad, and choose who you would like to give it to."
For more ideas to help you simplify and organize one day at a time, visit the Organized in 365 Archives.
Have you shared a great organizing tip on your website? I'd love to feature it on TheHappyHousewife.com. Submit your Organized in 365 tip.

Don't have a blog, but have a great tip? Submit your Organized in 365 guest post here.