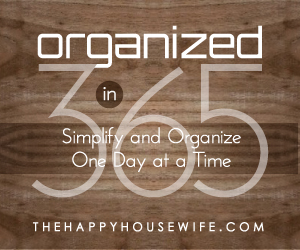 Reader Mary Jean  has several grandchildren.  She uses their empty baby wipes containers to organize the following:
Nail polish
Sample shampoo, conditioner, body wash and talc
Small toys
Bath toys
For more ideas to help you simplify and organize one day at a time, visit the Organized in 365 Archives.
Have you shared a great organizing tip on your website? I'd love to feature it on TheHappyHousewife.com. Submit your Organized in 365 tip.

Don't have a blog, but have a great tip? Submit your Organized in 365 guest post here.