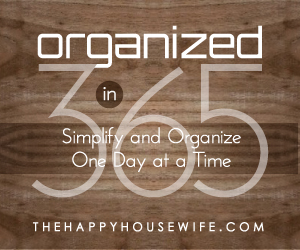 Disorganized finances can be costly. Lost bills, forgotten payments, and late fees can wreck a budget! One way to keep on top of the finances is to have weekly budget meetings.
For years my husband and I had monthly budget meetings but I realized that monthly wasn't often enough. If there were glaring problems with the budget, unexpected bills, or over spending it could take almost a month before it was resolved.
To keep your finances organized I recommend weekly budget meetings. They don't have to be marathon meetings, simply 15 to 20 minutes once a week to make sure everything is on track financially.
Your finances will stay organized and you'll probably save a little extra money too!
Have you shared a great organizing tip on your website? I'd love to feature it on TheHappyHousewife.com. Click here to submit your Organized in 365 tip. Don't have a blog, but have a great tip? Submit your Organized in 365 guest post here.