I was thinking the other day about the energy problems we are facing in this country. It seems like the government and people who write about this are always looking for big ways we can save energy. While I am not opposed to alternative energy and more efficient products, what has always intrigued me is that they often overlook simple, cheap, and effective ways to save energy.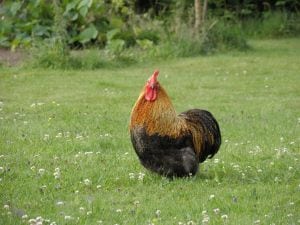 The first thing that came to mind were back yard chickens. In most cities, people are banned from keeping chickens in their yard, even though chickens are quiet (if you don't have a rooster), good for the soil, and can provide fresh eggs for your family. If you think about how most of us get our eggs, they are laid in a location two to five hours from where we live, put on a truck and then driven hundreds of miles to our local grocery store. Once at the store, they sit on refrigerated shelves until we drive to the store and purchase them. To me, that seems like a huge waste of energy.
Back yard chickens would fertilize the soil and provide you with fresh eggs. In order to get the eggs you walk to your back yard and collect them. No trucks, no refrigeration, less energy.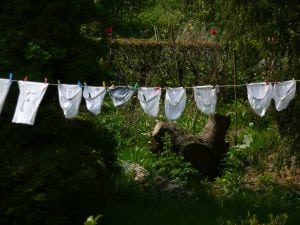 The other thing that immediately came to mind was the clothes line. Fifty years ago everyone had a clothes line, that was how you dried your clothes. Then came "community developments" and the rise of the HOA's and clotheslines were banned in many neighborhoods. It ruins the view to look at your neighbor's underwear hanging in the backyard. I did some simple math and realized that if the approximately 100 million households were to hang dry two loads of laundry a week, it would save 650 million dollars in energy costs. I realize in the big scheme of things 650 million dollars is not a lot, but it's a start.
I have always wondered why we ban the simple ways to save energy and spend millions of dollars figuring out costly ways to save energy. It seems logical to allow people to find their own ways to save energy. The incentive would be a lower electric or gas bill every month. Instead we make it more difficult for people to hang their clothes out to dry, keep chickens, or use alternative sources.
A few years ago I stumbled across this Path to Freedom website. I have always been intrigued by this family who has been working towards self sufficiency on 1/10 of an acre! It is amazing all the small, inexpensive things this family does to save energy and money! They even sell their extra energy back to the power company and make a profit! It is possible to make small changes that have a big impact, it just requires a change from the typical big solution type thinking we see today.