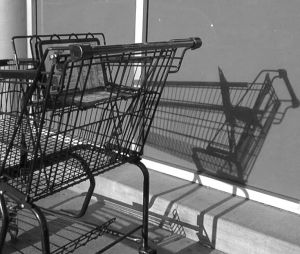 A question from a reader, Naomi.
I have been clipping coupons and looking for deals, but I have never felt like I was actually making a difference in our budget.  My question to you is this. I usually shop at Costco, Albertson's, Wal-Mart, CVS and Target.  Sometimes I feel as if I am driving around and around and I have yet to see any real results.  I guess I am just looking for some encouragement from you… Should I just concentrate on one or two stores instead of driving all over?
Great question Naomi. My friend Jenny talked about this yesterday in her 5 Simple Ways to Start Using Coupons article. She says, "Shopping with coupons can be overwhelming if you try to get every deal at every store.  Focus on (1) favorite grocery store and (1) drugstore and start paying attention to their sales."  I have to agree with her.
You have to think of couponing as one tool in your financial toolbox. Yes, you can save a lot of money using coupons, but if you are spending excessive amounts of time and gas trying to find the best deal, you probably aren't saving as much as you think you are.
The bottom line…. what is your goal? If it is to spend next to nothing on groceries every month, then keep driving all over town to find  the absolute best deal on everything. But I believe that you wouldn't be asking me for encouragement if that was truly your goal. It sounds like you want to be a wise steward of your time and money. If this is the case, then follow Jenny's advice and focus on one grocery and one drug store.
By picking two stores and focusing your efforts on fewer sales, you might pay a little more for a few items. But the money you save in gas will probably make up the difference.
One more thing. If you spend less time searching for every deal, you can invest that time in other money saving endeavors, such as making foods from scratch, or taking time to yard sale or visit the thrift store for second hand clothes.
Your time is valuable, so make sure you are spending it wisely.