Planning a trip to Disney World anytime soon or in the future?  If so, you need to check out this eBook!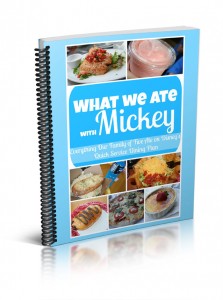 Disney vacations are known to be quite expensive, but you can actually get some great deals with a little planning and research!  Food is one of the main factors of any vacation that the cost adds up quickly including a trip to Disney.  Thankfully, ASlobComesClean.com has released all of her research and proof that you can have a variety of meal options on the Quick Service Plan in her ebook, What We Ate With Mickey (Everything Our Family of Five Ate On Disney's Quick Service Dining Plan)!  (Note: the Quick Service Plan is one of the cheaper options and is often included for free with stays at the value resorts!)
This eBook is a pictorial food diary of their 6 night/7 day Walt Disney World trip where you can see for yourself what an average family of five ate during their entire trip.  She's also included their thoughts on the food, how they sort-of-randomly-sort-of-not-randomly chose where they'd eat each day, and tips for a trip to Disney.
Today only, What We Ate with Mickey, is FREE on Amazon Kindle!
If you don't have a Kindle, then you can still download these free eBooks to your smart phone or computer. All you need to do is download one of Amazon's free reading apps.
Remember that Amazon prices fluctuate constantly, so verify the price before purchasing.