All You Magazine is a fantastic resource for recipes, home management tips, frugal living suggestions, and of course, lots of manufacturer coupons! More than enough to pay for each month's copy!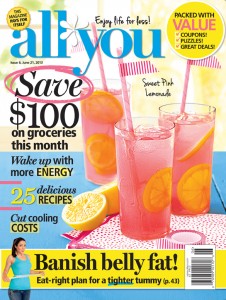 Previously, you could only purchase the All You Magazine in stores at Walmart, but now they've expanded to a variety of stores based on the state! Check out where All You Magazines are sold in your area here.
Plus, print a coupon for $1 off your next in-store purchase here.
If you already know you love this magazine, then save some expense and hassle by clicking here to order a subscription to All You Magazine
for only $1.67 an issue!