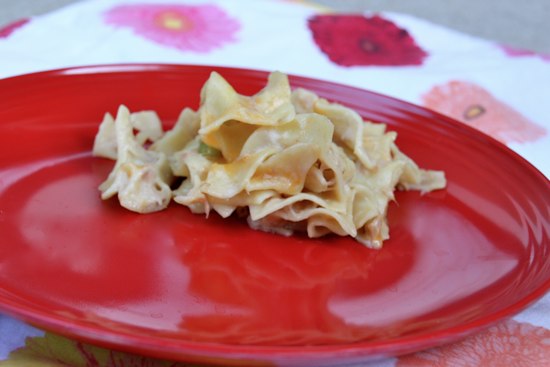 Tuna casserole is a staple in our house. Everyone loves it and I can usually get most of the ingredients on sale which makes it a cheap meal too.
When I posted my last tuna noodle casserole recipe a few of you asked for a version that didn't require a cream based soup. While using the cream based soup makes this meal super easy, I do understand wanting a healthier version, plus the price of cream soups is going up!
The cream soup free tuna casserole was a big hit with my family and it is definitely going to replace my old recipe!
Recipe: Tuna Casserole
Ingredients
6 Tablespoons of butter
1 bunch green onion (finely chopped)
1 celery stalk (diced)
1 Tablespoon minced garlic
1 cup mushrooms (optional)
1 cup frozen peas (optional)
1 1/2 cups milk
2 Tablespoons flour
2 cans tuna (drained)
1 bag egg noodles
2 cups shredded cheddar or monterey jack cheese
Salt, pepper, red pepper flakes (to taste)
Instructions
Start water boiling for the noodles.
While the noodles are boiling melt 2 Tablespoons of butter in a pan.
Over medium heat cook onions, celery, mushrooms, and garlic for about 3 minutes.
Add 4 Tablespoons of butter to the pan.
When the butter is melted add the flour.
Turn the heat to low and stir quickly with a whisk.
While whisking pour in the milk.
Whisk the mixture until it thickens and starts to boil. (You can turn up the heat, but don't let the milk burn)
If the mixture is not thickening you might need to add a little more flour, but don't add too much.
Once the mixture has thickened combine with the drained noodles. (I usually combine them right in the stock pot)
Mix in tuna, 1 cup of cheese, peas, and spices.
Pour into a greased 9×13 baking dish.
Cover and bake for 15 minutes at 350 degrees.
Remove foil, top with the remaining cheese and cook an additional 5 minutes.
Preparation time: 20 minute(s)
Cooking time: 20 minute(s)
Number of servings (yield): 8